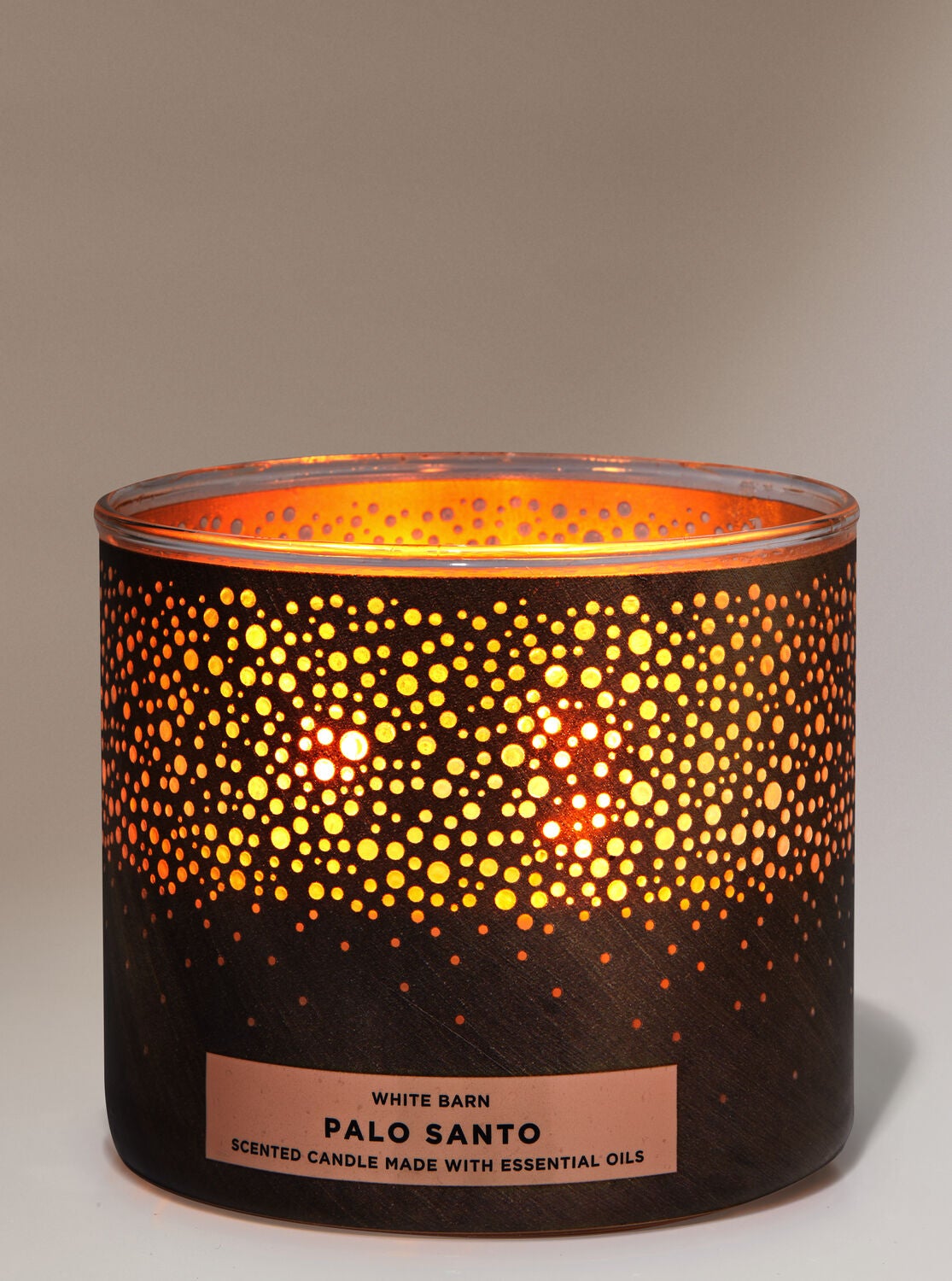 I added this candle to cart without any knowledge of how it smells. I know how musk smells like and I'm actually not a fan of musky scents, yet this became my purchase during candle day.
Bought: Through the Bath and Bodyworks USA website during candle day for $15.95 this December. I was really debating in my head if this is going to be worth it. It felt too risky to purchase because the shipping cost to the Philippines is weight-based and these are heavy. I needed to choose well.
Packaging: Wrapped with a brown sticker with holes all over. It is really beautiful when lighted — like a cute lamp!
Scent notes: Palo Santo Wood, Warm Amber, Soft Musk with Essential Oils
I was really excited for this candle to come because I'm so curious with how it smells. I tend to lean toward masculine clean and woody scents so I felt this would smell good. Other candle scents that I've seen (so far) are woody combined with sweeter notes (for example Marshmallow Fireside), and I wanted something that was just wood. I'm all getting that because the first ingredient says Palo Santo wood. I don't even know what kind of wood it is and I didn't bother googling.
When the candle arrived, I was a bit disappointed. I was expecting woody but all I was getting is this soft musky scent. It wasn't bad but it's also not the smell that I was looking for. I debated selling it online and left it unlit for two days.
I finally decided to light it and figure out that I'll just sell it after (if I still didn't like it). I'm so glad I gave it a chance! When I lighted it, the soft musky cologne smell was prominently there, but it isn't as strong compared to cold sniff. As the candle burned more, the woody scent starts to take over. The smell will remind you a lot of sawdust. It might seem odd to have that as a candle, but it really works. Every time I light it up, it reminds me of the time that I would hug my grandfather/older uncles. It reminds me a lot of that cologne popular to older people. It's kind of an old person smell, but a kind old person. The type you'd help carry groceries for or cross the street with.
I don't think there is an appropriate time to light this candle, but I like to light it at night a few hours before I go to bed. The memories I resonate it with makes me feel comfortable and a little bit relaxed.
I also found that for some reason this (or at least the I one I bought) burns so slowly. I have been burning it at constant 2-3 hours at least twice a week and I'm still not yet halfway through with the glass jar. This is not a common scent I've seen sold by resellers here so I hope that it will still be available next time.
Similar scent: On cold sniff, this reminds me a lot of Cozy Cashmere candle which I am not a fan of. I'm generally not a fan of musky scents and Cozy Cashmere is strongly musky. This felt like a milder version of it. If you like burning incense, you would like this candle.
This is a neutral scent. I wouldn't recommend this unless you like woodsy scents or the smell of incense. It's really a lot of how sawdust smells. If you like how wood furniture shops or wood workshops smell — definitely get this.